Biggest Free Bets
Welcome Free Bets (FBs) are the most demanded bonuses among bookmaker clients and if it is also large, this will undoubtedly add to the popularity of such a bookmaker's offer.
It will not be superfluous to remind you that
this type of bonus does not need to be wagered
, and after a free bet is made by a player, he can without any additional actions, simply withdraw the winnings from his account.
What are Super Free Bets?

Unlike regular first deposit bonuses in betting, the usual size of FBs is considered to be in the area of £5 to £40.
Amounts of £50 and more can be confidently classified as Super Free Bets. It doesn't matter if they are £50 or £100.
List of the Biggest Free Bets

September
2023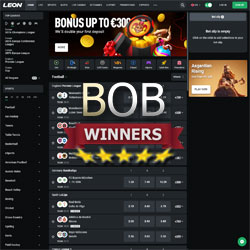 1. Leon
100% Free Bets: €15 x 20
Wagering: 1 x D
Promo code: -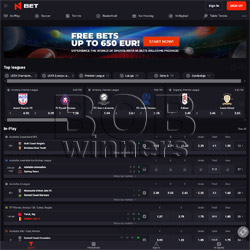 2. N1Bet
50% Free Bet: €200
Wagering: 1 x D
Promo code: FIRST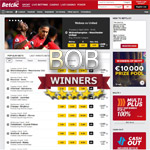 3. Betclic
100% Free Bet: €100
Wagering: 1 x D
Promo code: -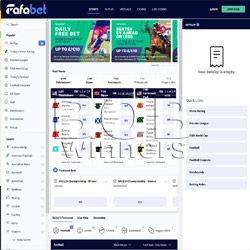 4. Fafabet
100% Free Bet: £50

Wagering: 1 x D
Promo code: -
Why are Free Bets Rarely Large?
Basically, the free bets offered by online bookmakers are small and there is a completely understandable explanation for this.
Namely because such a bonus does not require wagering and if there is no wagering, then the player is likely to receive a win bypassing most of the usual risks, which means that the bookmaker, on the other hand bears a direct financial loss.
This is why betting sites never actually offer very large FBs to their customers.
Where Can You Find the Biggest Free Bets?

The biggest free bets are not common but can still be found on some popular betting sites.
You will rarely find generous offers from the world's major online bookmakers, but on new betting sites that are just gaining their reputation and authority in the betting market, you can often find the best free bet offers.
It is the new online bookmakers who give good bonuses to new customers at the early stage of their development and you should not be wary or suspicious of this, since this is a completely normal and natural phenomenon.
A betting company that has just appeared on the market must attract customers by all available legal means, and the bonus policy is often decisive in that regard.
However, keep in mind that even then
it will be nearly impossible to find a

FB

offer over €100
.
Sometimes FBs come as a small additional bonus to the main one, and such bonuses are called Doubledown Bonuses.
Updated in
September 2023
Top 5
Biggest Bookies
(customers)