New Bookmakers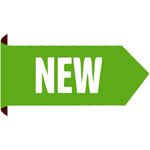 Over the past decade, many new online bookmakers have begun their journey on the Internet.
Not all of them have become successful companies and we can honestly say that most of them have disappeared rather quickly, find little success.
However, this does not prevent dozens of new betting sites from striving to prove their worth and success and gain a foothold in the online gambling market every year.
⚡ Top 10 New Betting Sites
(Ranking

of 'Year of Establishment'

)

March
2023

New Betting Websites:

Popular New Betting Sites
(Monthly

International Visitors

)

March
2023

Monthly Visitors:

20bet (2020) - 2,699,760
Cyberbet (2020) - 557,070
Crickex (2020) - 422,310
Mostbet (2019) - 369,780
Betobet (2021) - 345,840
Megapari (2019) - 273,480
QuinnBet (2020) - 247,980
Helabet (2022) - 96,310
BetiBet (2021) - 63,296
LineBet (2022) - 62,044
GoldenBet (2021) - 39,131
DexterBet (2022) - 31,494
NitroBetting (2022) - 29,195
PNXbet (2020) - 26,159
SilverPlay (2022) - 22,247
FezBet (2022) - 18,312
Betgoodwin (2021) - 14,582
Ditobet (2021) - 12,768
JeffBet (2022) - 12,631
Zetbet (2022) - 8,997
TornadoBet (2021) - 6,240
Which online bookmakers can be considered as new?

New online bookmakers are betting sites that have been formed recently.
These usually include websites that have been in existence for less than 5 years.
Having existed for such a short period, new bookmaker brands have not yet managed to win the trust of customers and most bettors are wary of the registration offers on such websites.
New Betting Offers

March
2023

New Bonuses & Free Bet Offers:
Why are new brands of betting sites arousing increased interest among bettors?
Paradoxically, given the very cautious attitude of players towards new brands in online gambling, new betting sites are an area of increased attention and this is not only due to curiosity.
What the big online bookmakers with decades of well-deserved work and a solid reputation have to offer their clients is completely out of reach for young companies so they are forced to attract customers in all different sorts of effective ways to which all of their so-called "pluses" can be attributed:

The Pros of New Bookmakers
Very profitable and big welcome bonuses and free bets for which a low wagering requirement is set
Innovative progressive solutions in the functionality and interface of their websites
Simplification of the conditions for registering new players.
For a large part of bettors what is primarily beneficial for them and what is important are new betting offers for first clients.
This factor alone is enough to increase the number of new registrations on a new site.

The Cons of New Bookmakers
Unreasonable closure of customer accounts
Limitations on the maximum amount of bets
Delays in the payment of winnings
The unexpected bankruptcy of the bookmaker
For these reasons, such new companies should be treated with special care.
The general recommendation here is to advise you to withdraw your winnings in a timely manner, without accumulating very large sums of money on your customer accounts at any one time and to be ready to undergo a thorough check of your identity documents when withdrawing money.
Top 5
Biggest Bookies
(customers)