Bookmakers with 0% Margins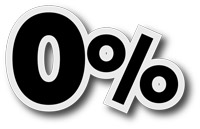 It is no secret that for all bettors a very important indicator when choosing a bookmaker is the % of the bookmaker's margin.
The lower this percentage, the more profitable the odds will be.
We have already said that bookmakers with high odds offer on average margin of 1.5% to 4.5%.
What if this margin is 0% or very close to zero (0.15-0.25%)?
Sound fantastic?
You might be surprised, but there are betting sites out there that offer their customers a 0% margin on some bets.
This list of online bookmakers with 0% margins is always current and updated every month.

September
2023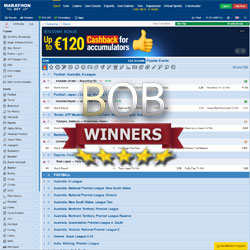 1. Marathonbet

Betting Margin:


High Odds:


Boosted Odds: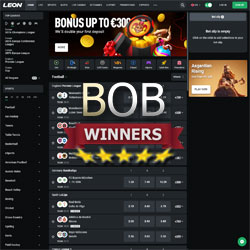 2. Leon

Betting Margin:


High Odds:


Boosted Odds:

It should be noted that this margin amount is only available for sports betting on certain events that are selected by the bookmaker itself.
Most often, we are talking, as already mentioned, not about an absolute zero margin, but about an extremely reduced margin for bets, for example, on certain top football matches.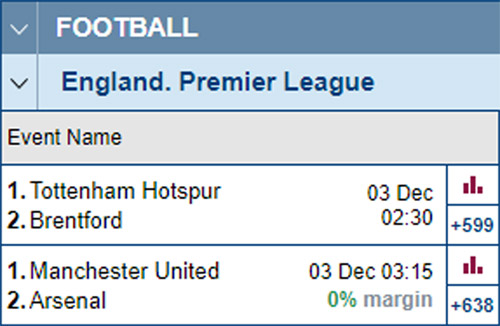 Typically "higher odds" on betting sites are denoted by the following labels:
As you can see in the image below, the bookmaker's offer is labeled a "0% margin" and contains a potential bet with an actual margin of 0.09%.

Bookmaker Margin Calculation Formula
Betting margin is easy to calculate using this formula:
A
=
1-(1/K1 + 1/K2 + 1/K3)
B
=
(1/K1 + 1/K2 + 1/K3)
Margin
=
(A/B) x 100
= 0.09%
K1 - 2.08
K2 - 3.84
K3 - 3.85
Enter this formula into Excel file and the Bookmaker Margin Calculator is ready!
Updated in
September 2023
Top 5
Biggest Bookies
(customers)